JP Morgan Chase
10+ Projects
I have been a marketing partner for Bank One/Chase for more than 10 years. My team and I have contributed to the strategic and conceptual development and execution of Chase National Retail Campaigns, Grand Openings, The Chase Home Mortgage Group (Retail and acquisition materials), Chase Auto financing (tradeshow and trade pub materials), Promotions, Online Promotions, Web Banners, emails, internal training materials and many waves of Branch Collateral. — Included in this collection: Brochures, Folders, Emails, Events, Retail Environments, Mailers, Unmanned Kiosks and concepts
Chase Private Client: Welcome Kit
We were asked to lower the production cost, but hold on to the high-end feel of the product. We cut the price by 11% and created an amazing new system for the Welcome Kit.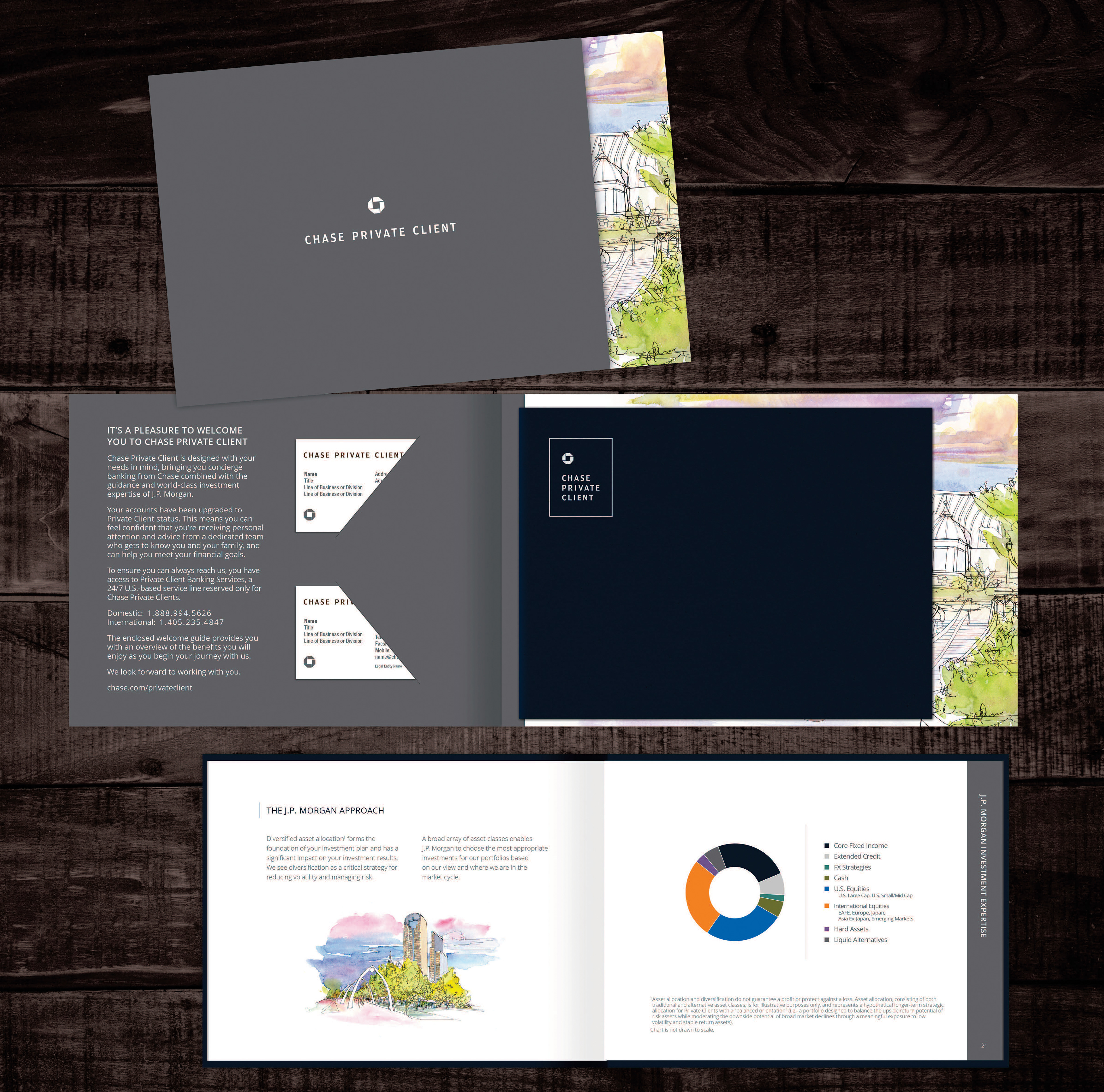 Business Banking
We developed a sales tool in the form of a small booklet for business bankers. Three bundles were created and named based on the core products included it. Each package spread rolled out to reveal the full benefits that pertained to that bundle. The rest of the booklet contained information that was universal for the businesses it served.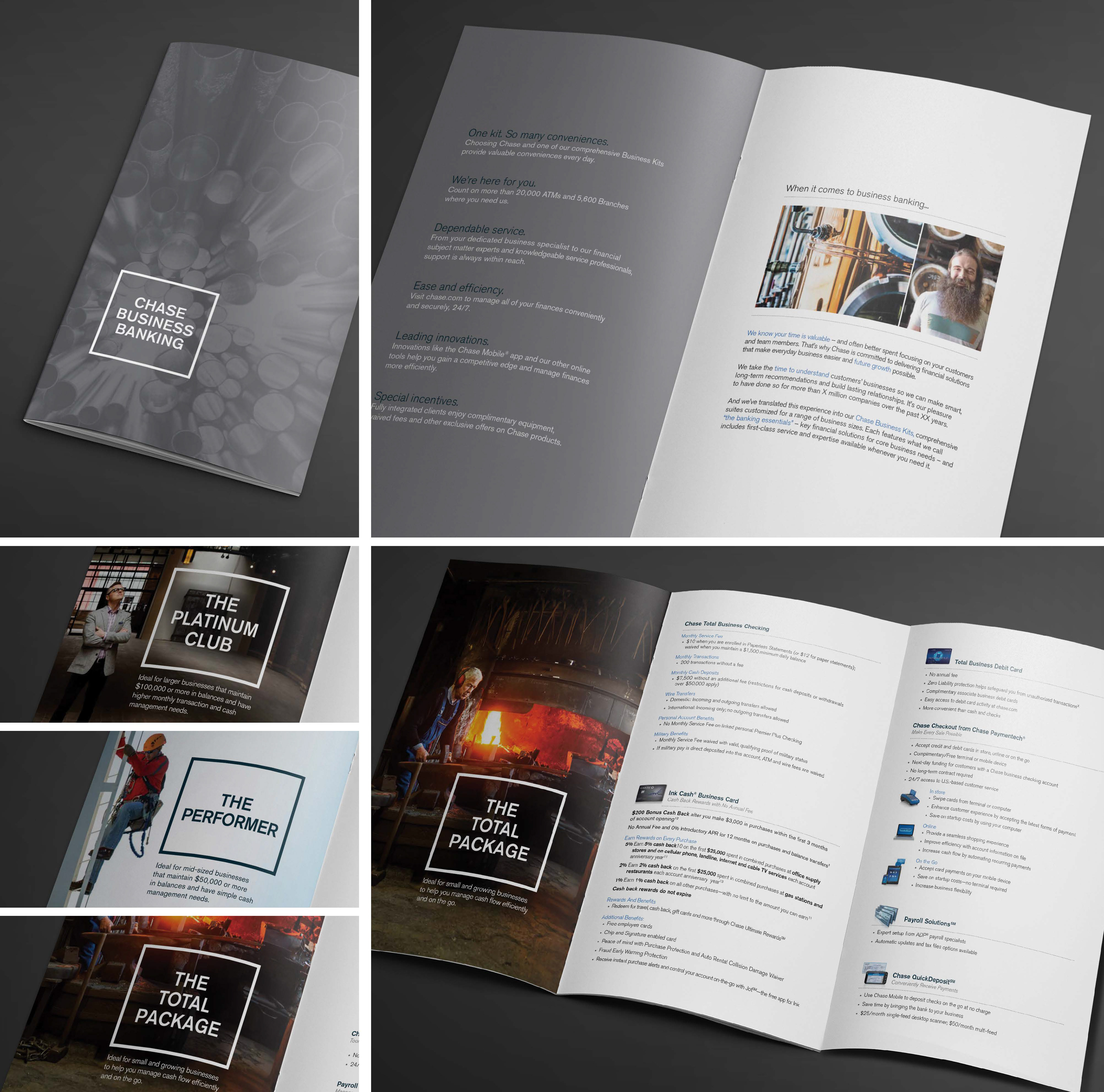 Business Banking: The 2016 Business Leaders Outlook Survey
Like in previous years the survey was sent to business owners, collected, broken down and released to Chase business customers as a yearly forecasting tool. This year, instead of releasing a 40 page book, we released a single sheet infographic that delivered the most relevant information in easily digestible bites.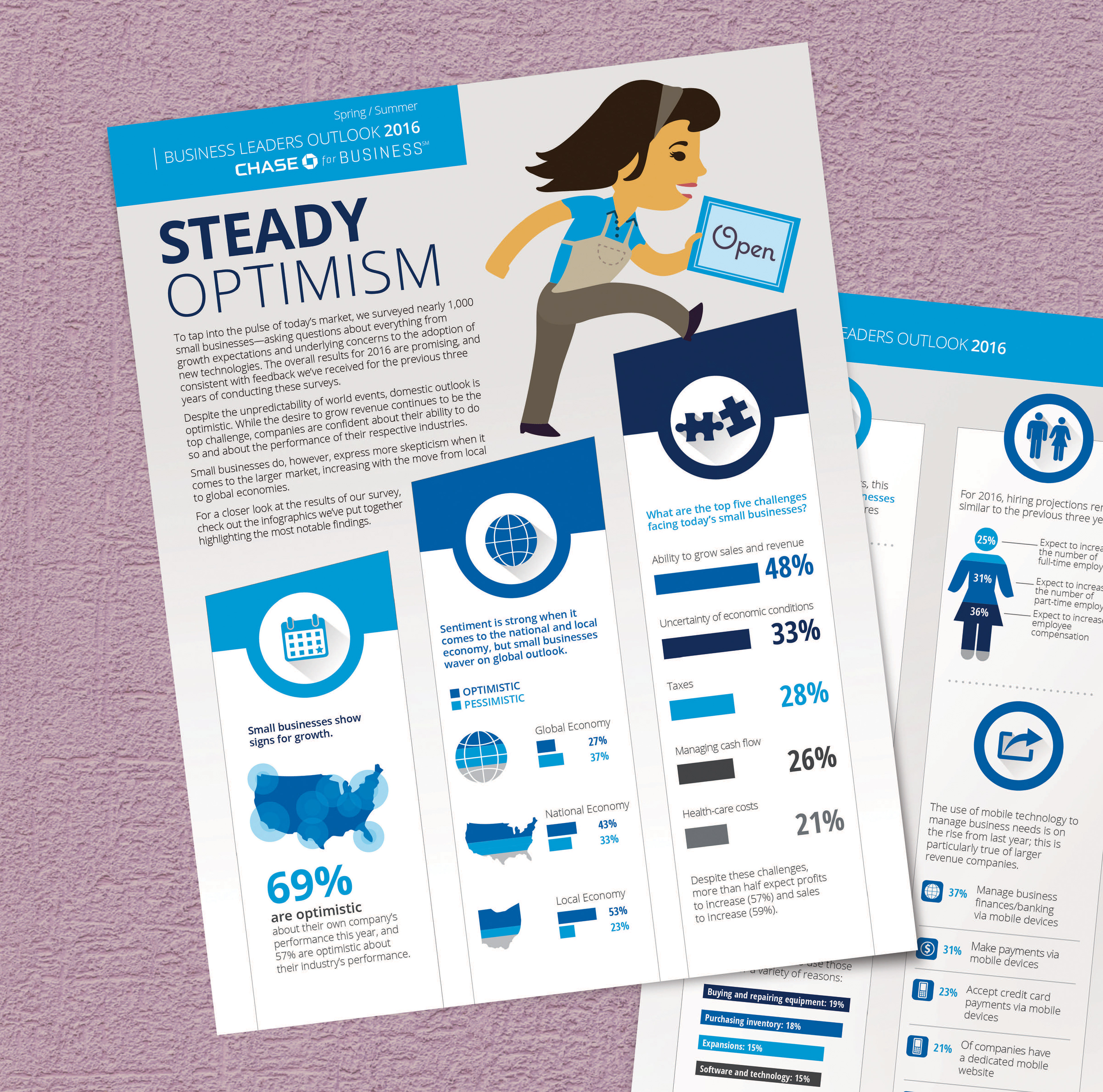 Retail Banking
The holiday season merchandising. Imagery consists of stock photography and that from our photoshoot. This campaign was created in English, Spanish and Chinese.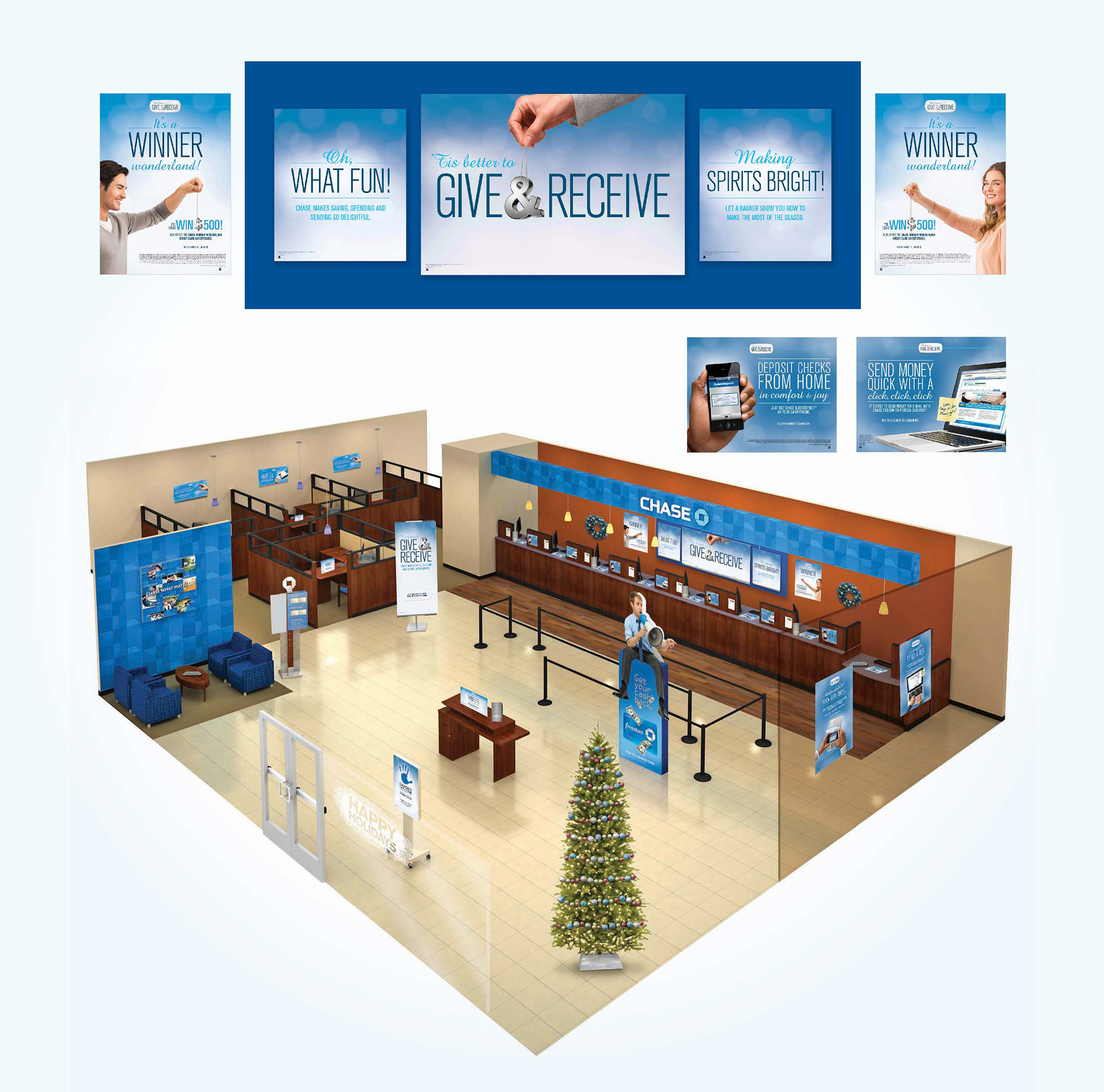 Retail Banking
The concept was to work the Chase octagon into each scene. The posters didn't stray much from our pencil sketches.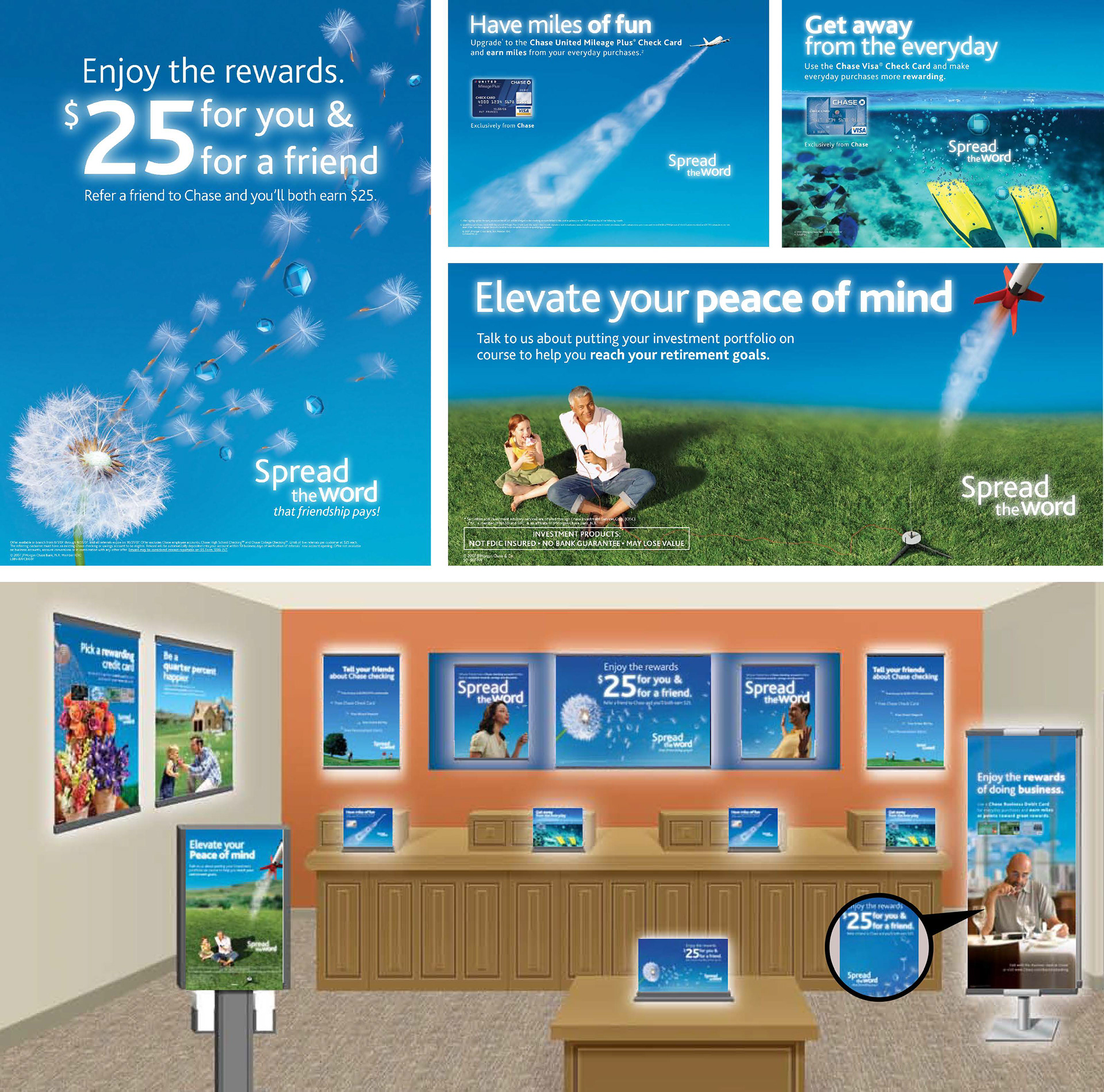 Retail Banking
Chase picks up the tab is a promotion in which chase will pay up to xx of a credit charge on your debit card. These are some of my concepts for that campaign. Each one shows a different way we could visualize the campaign throughout the banking center.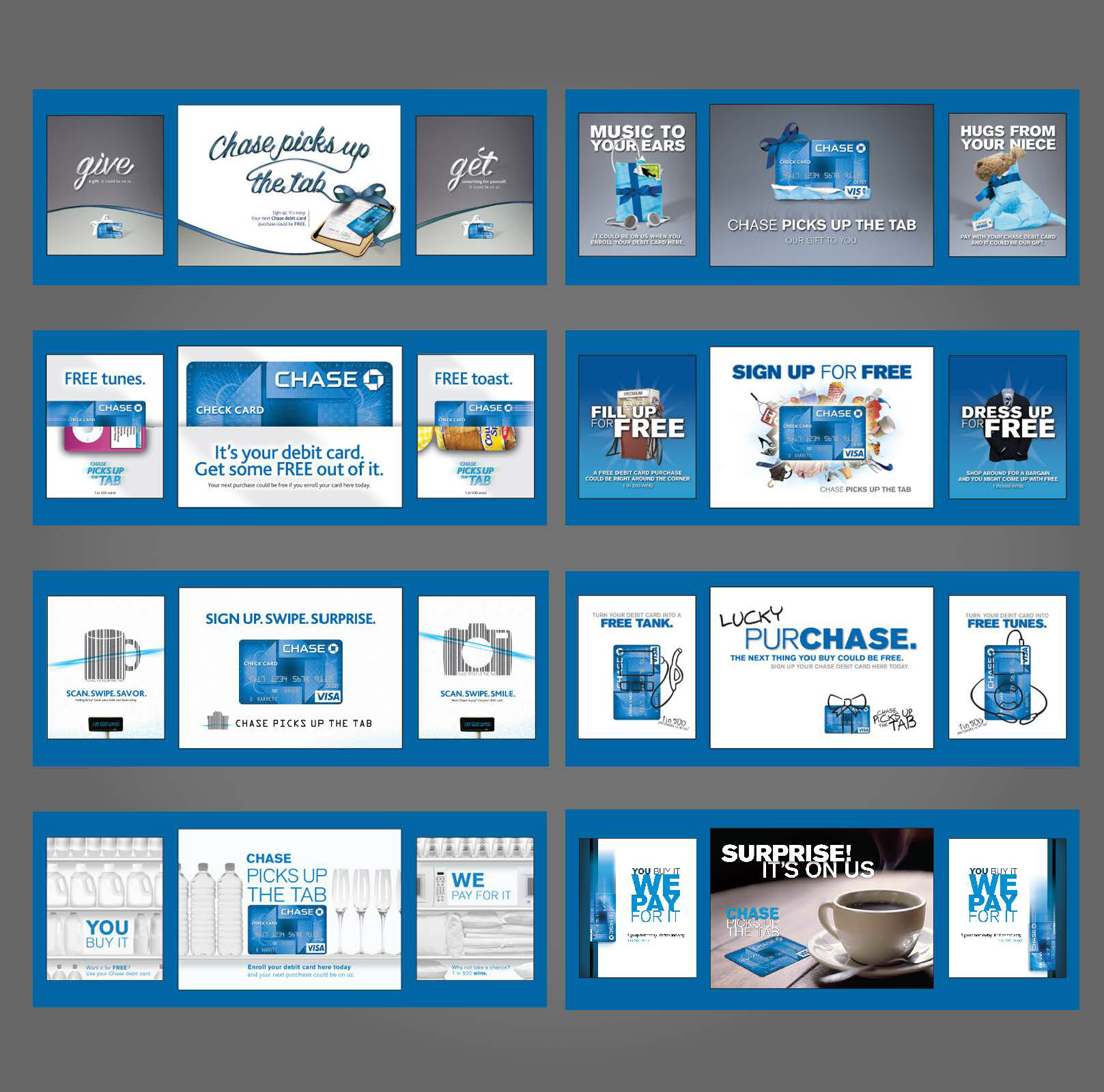 Retail Banking
In a move to feel less like a big bank and more localized we proposed having different region specific photography on the banker tools and collateral. This is a placemat I designed to stay on the bankers desk. It folds to take up less space as well as show a welcoming message and image.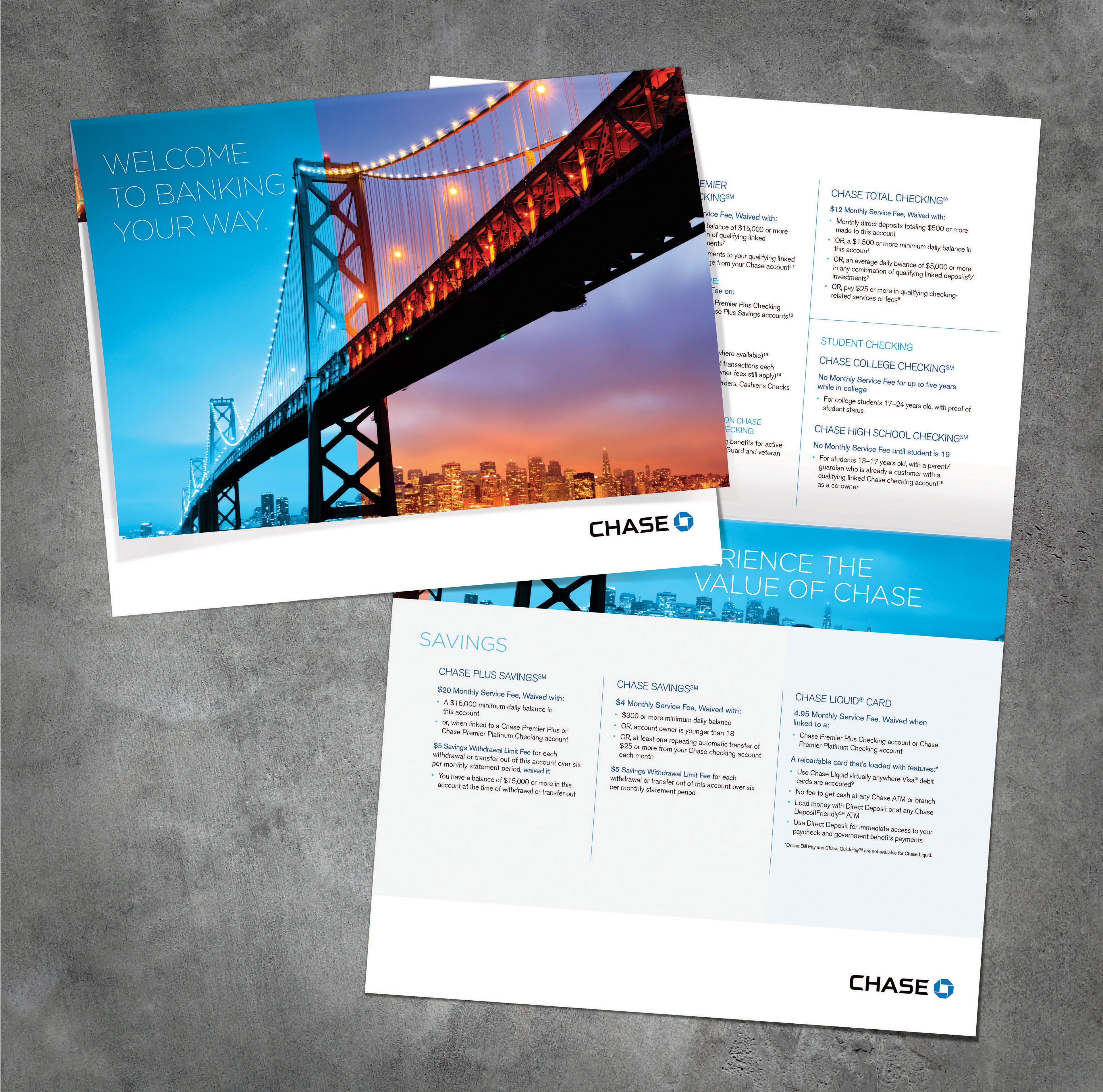 Retail Banking
(internal use only)
Even though Chase is national the customers appreciate going to their branch and talking to "their" guy. Which creates a neighborhood feel. We incentivized the bankers to embrace this with handout. It's several pages long and each page rolls out to reveal a notes section and a place for an "achievement" stamp. I had a little fun with this project.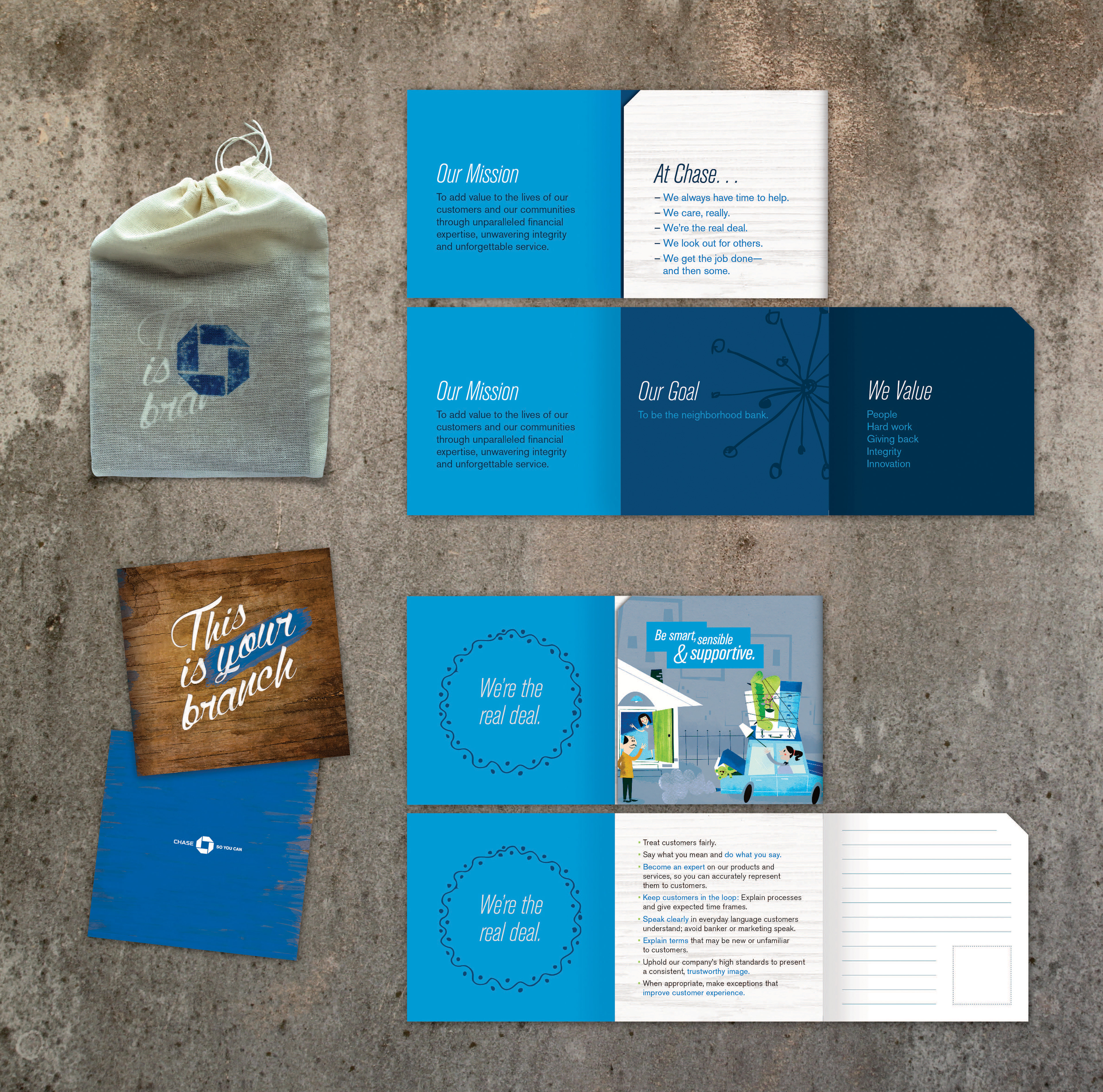 Chase Mortgage Group
We created this tool so when the Chase banker was working with a lending office they had a fun easy way of showing the advantages of directing their clients to using chase to get the financing for their new home. We wanted it to be more memorable than a little trifold brochure.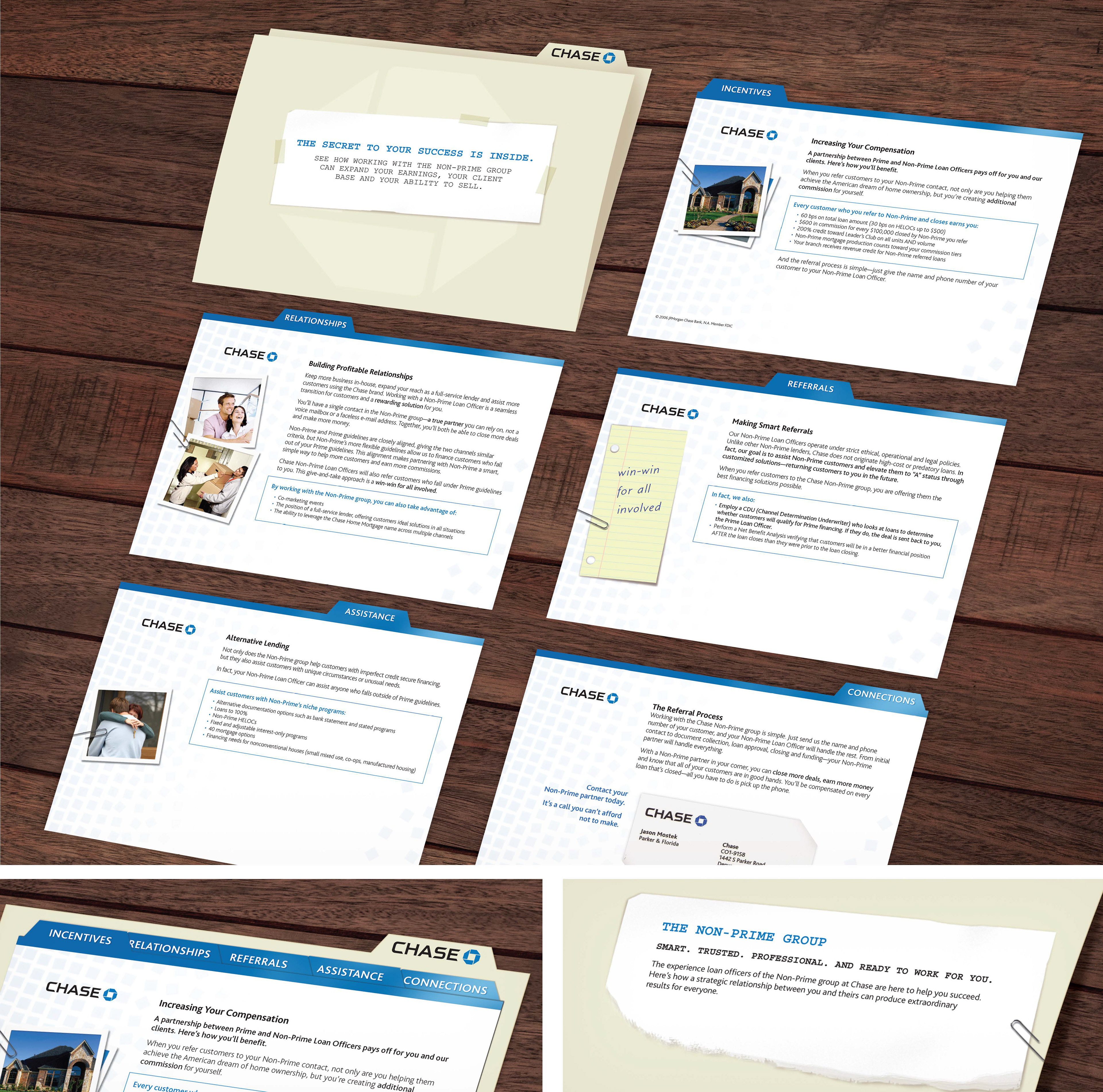 Chase Credit Card
A Chase and Southwest Airlines partnership. These emails are the first two a new customer would receive when being approved for a card. We really wanted to simplify the messaging and these emails embraced that idea.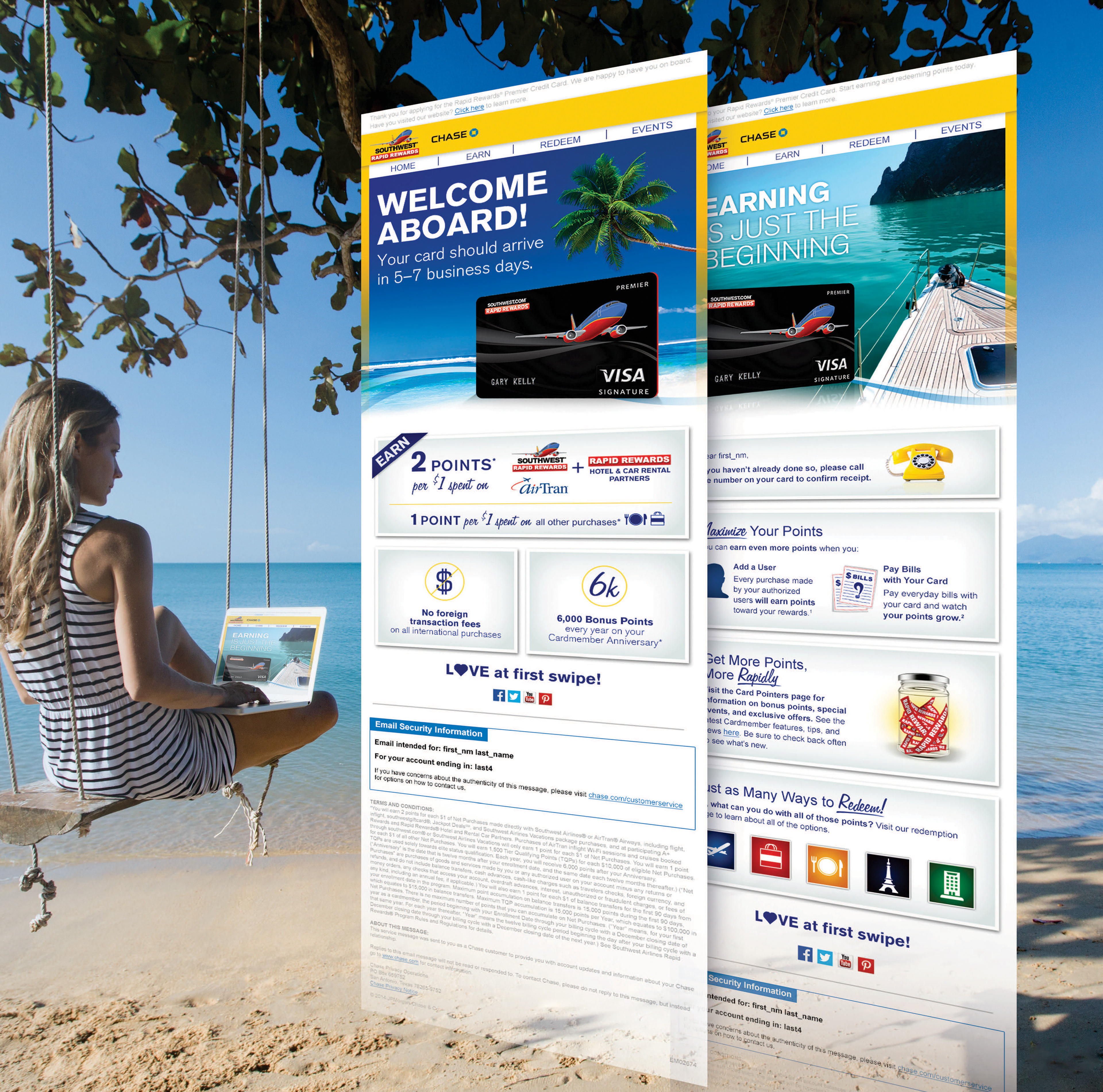 Chase Credit Card
A Chase and Southwest Airlines partnership. These two mailers concepts were designed to break through the clutter and give the customer something they wouldn't only need to keep, but would like to hold on too. The mailer would immediately follow or be packaged with the customers new credit card. It was designed to show the perks of the card and give important contact information.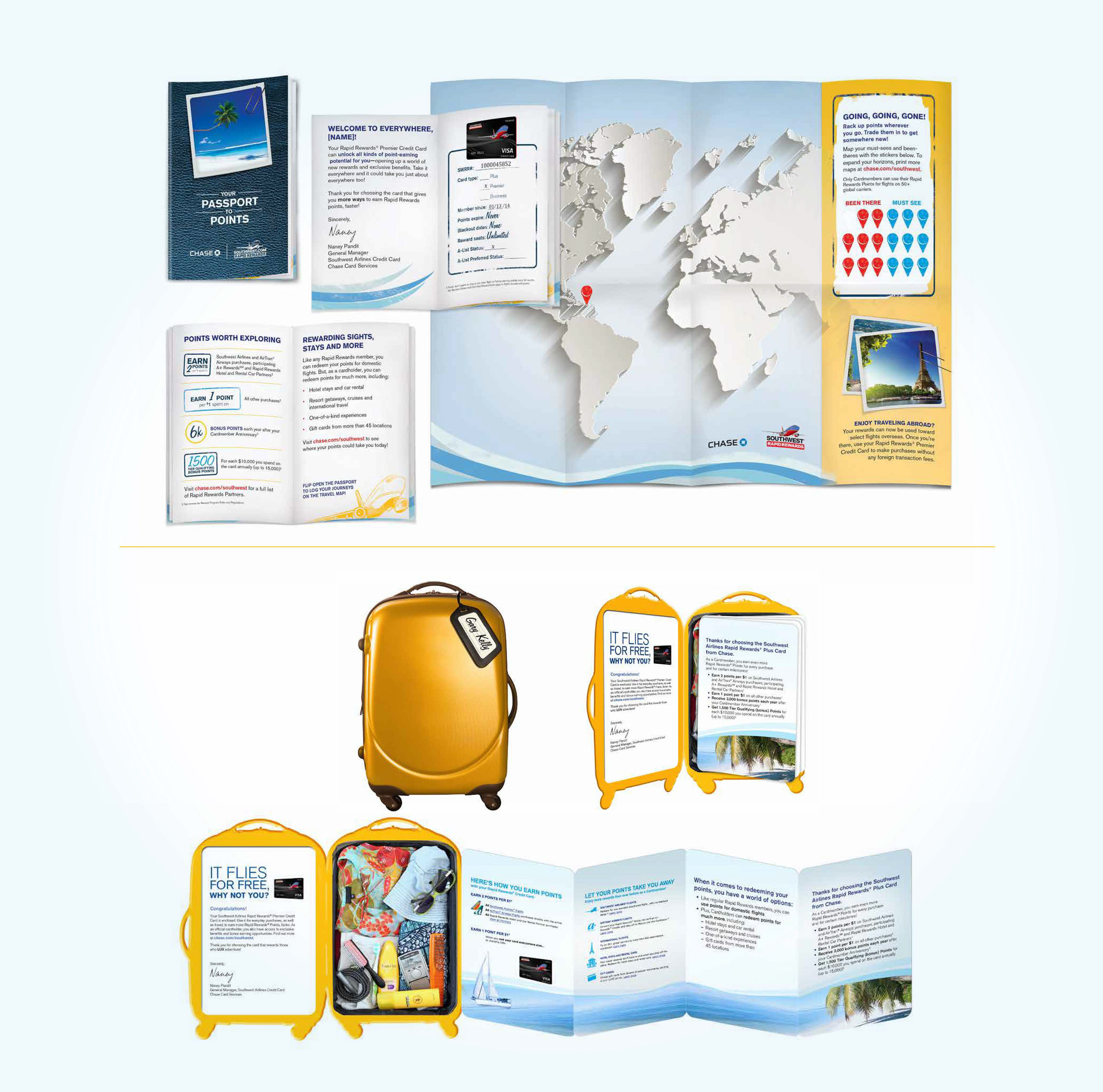 Chase Credit Card
A Chase and Southwest Airlines partnership. We really wanted to focus on the perk/rewards that were available to card holders who were hoarding their points (or just don't think they have enough to get anything fun). It's expensive and unreliable to employ someone 24/7 to give information on the benefits of this partnership.We were challenged to be innovative.
1.
This concept has a video faux store front with a working door for privacy to enter and sign up for a card. The girl worked off of facial recognition A.I. software and spoke to anyone who would pause in front of the display. Products circulated in the carousel by a wave of the hand. The Pillar beside this was designed to be a solid lucite pillar with actual product or be an OLED Display wrapped around a pillar that could share messaging and show rewards.
2
. A hut with interactive projector on the outside and a camera on the inside that had snapchat like capabilities. The images could be saved and sent to you via text message or by a paper postcard.
3
. Desk and a timed phone charger. The charger would be toggled on through simple interactivity with the brand.
Community Event
The Jacksonville zoo holds a one day family event called the Spooktacular. We were asked to create a space that would have stopping power and be fit for the occasion. Our team delivered this beautiful spread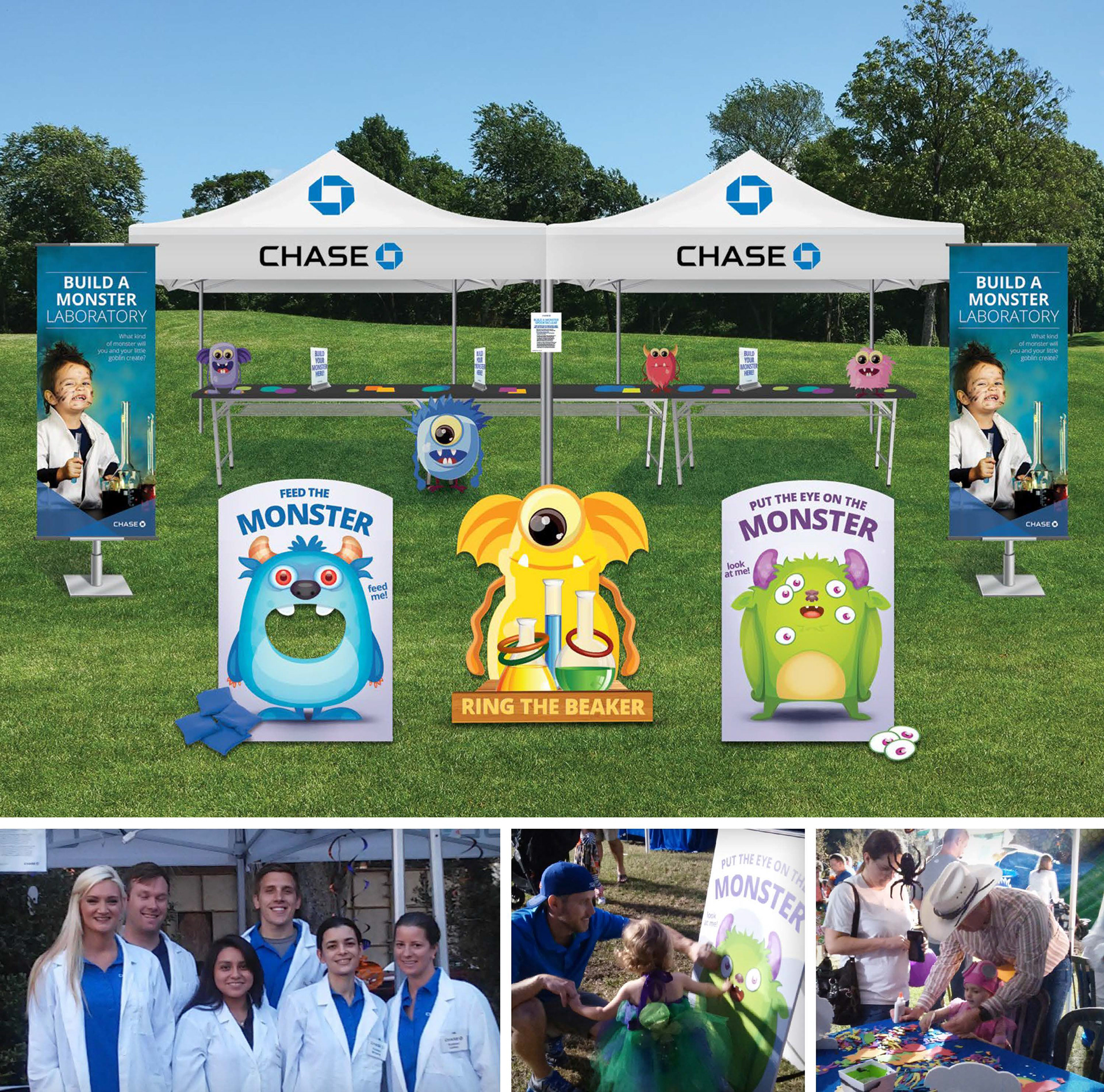 Event Sponsorship
An annual sponsorship of the US Open gave us an opportunity to have some fun. We created a promotion, logo, booth graphics and a jumbo-tron video to promote it on the premises.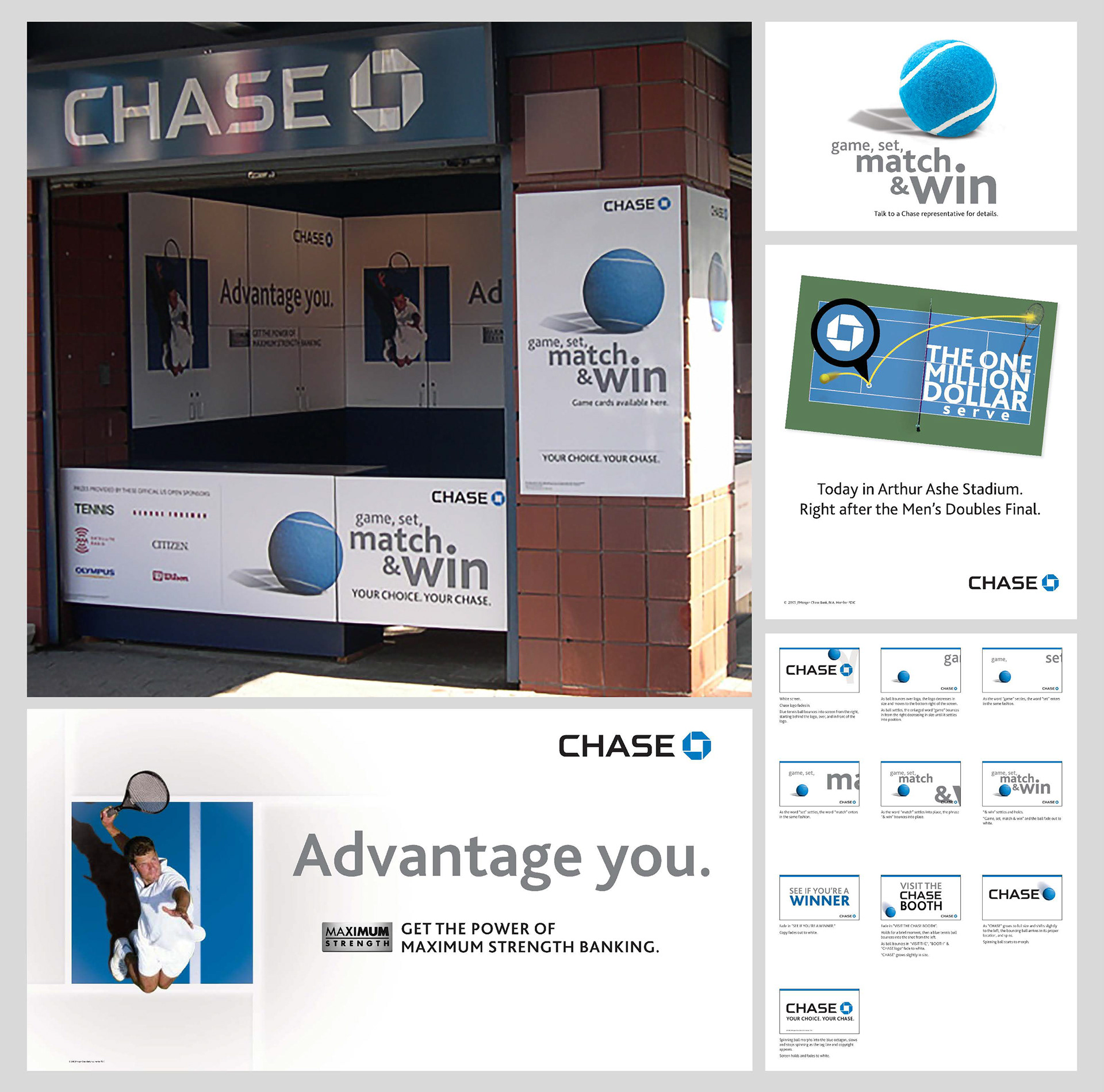 Chase Liquid Card: Product Launch Instant Win Promotion Site
Designed a microsite and a couple of game animation to teach the consumer about the card and inform them of their winning/losing status. Click the image for the animation.